︎︎︎STUDIO PROJECT FROM SCROLL︎︎︎
︎︎︎1ST FEBUARY︎︎︎
Febuary 1st: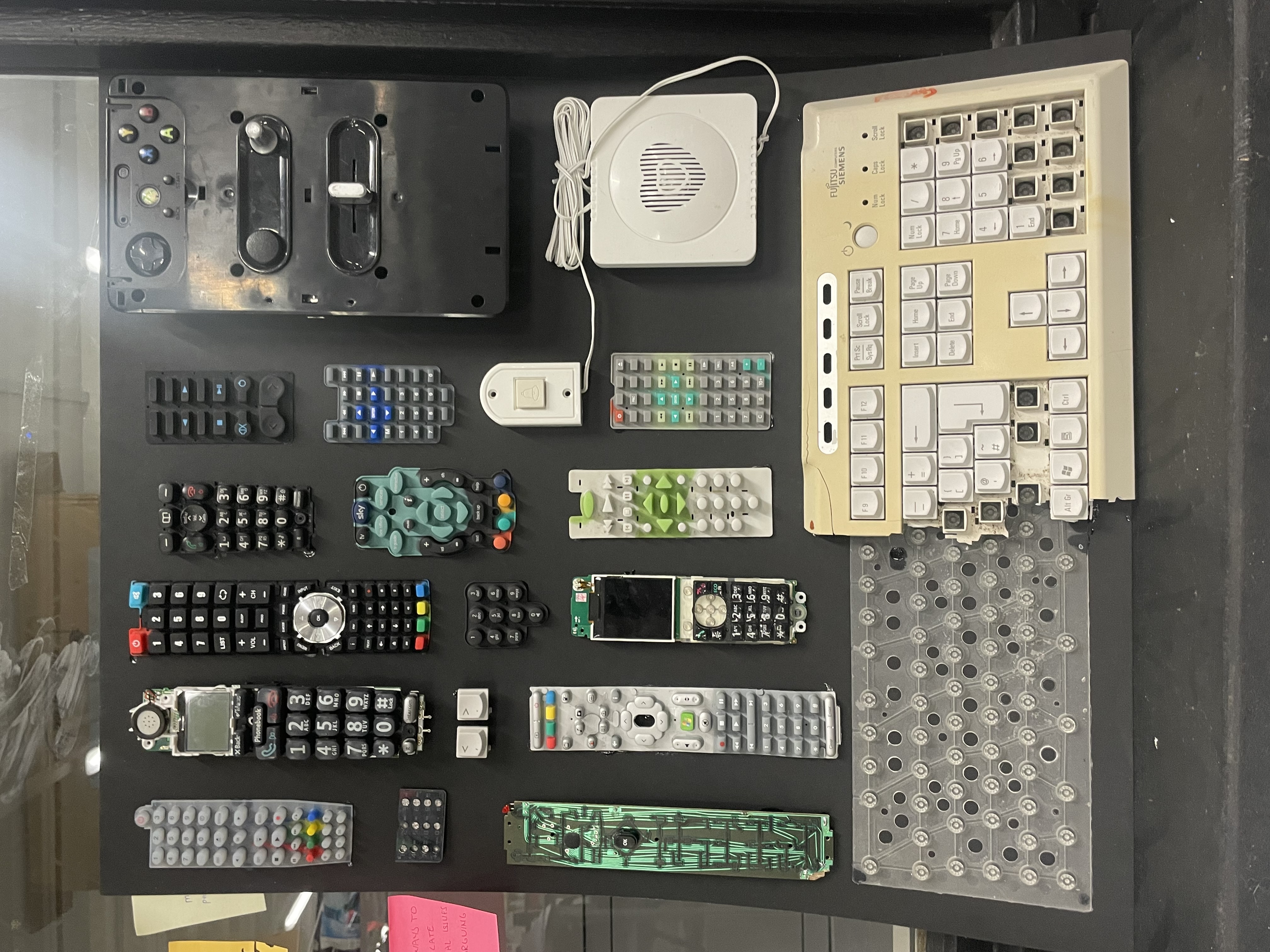 Mounting buttons to reasearch what peoples favourite button to press was, what they found most satisfying. I think it shows an effective array of buttons but they do not function so the cause can not be satisfying without an effect. They are dead buttons.

Feburary 2nd:


This mechanism shows a primitive version of how simple a button can be; just one peice of wood and a spring. I like how the bread board was used almost to hide the button in plain sight. It presents a button as a mysterious object that we have no idea the length of its power until it is utilised.
︎︎︎PLEASE FIND LINK ON PICTURE FOR VIDEO︎︎︎
This video displays the mouse being using in its normal way and then being controlled by a foot pedal I had placed over the right click of the mouse. Suprisingly i found that the foot pedal allowed me to click faster then just using my finger, even after serval attempts. The foot pedal allowed me to wiggle my foot so I could press the mouse faster than my finger. I think this is an interesting experiment becuase it shows how we might not be using the right controllers or buttons to complete tasks most effeciency in society. Sometimes different modes of pressing can allow us to achieve something we previously could not.



This was a button I created with cardboard, spring from a battery case and a metal cap from a perfume bottle. I Think it has a satisfying push back and gives a mysterious feel to what it could acheive when programmed.
Febuary 6th:














This is a button I made in blender to exeriment with the importance of a button digitally. Its interesting to imagine what it should do before it is pressed down. With digitally rendered buttons the possibilities are endless.










Trying to figure out how to make a button circuit so that i can apply it to different functions. A good place to start to try and figure out the functions of what a button can perform. Unfortunatly i could not get the LED to turn on when the button was pressed. A problem in the circuit?















After finding a chair in a skip without a seat i soeculated the idea of sitting on a button to activate something. I wanted to start imagining mechanisms that would press buttons in unorthandox ways. This was a first sketch I created imagining using the weight of someone as a pressure for a button. I liked the idea of that being a starting point of series of cause and effects.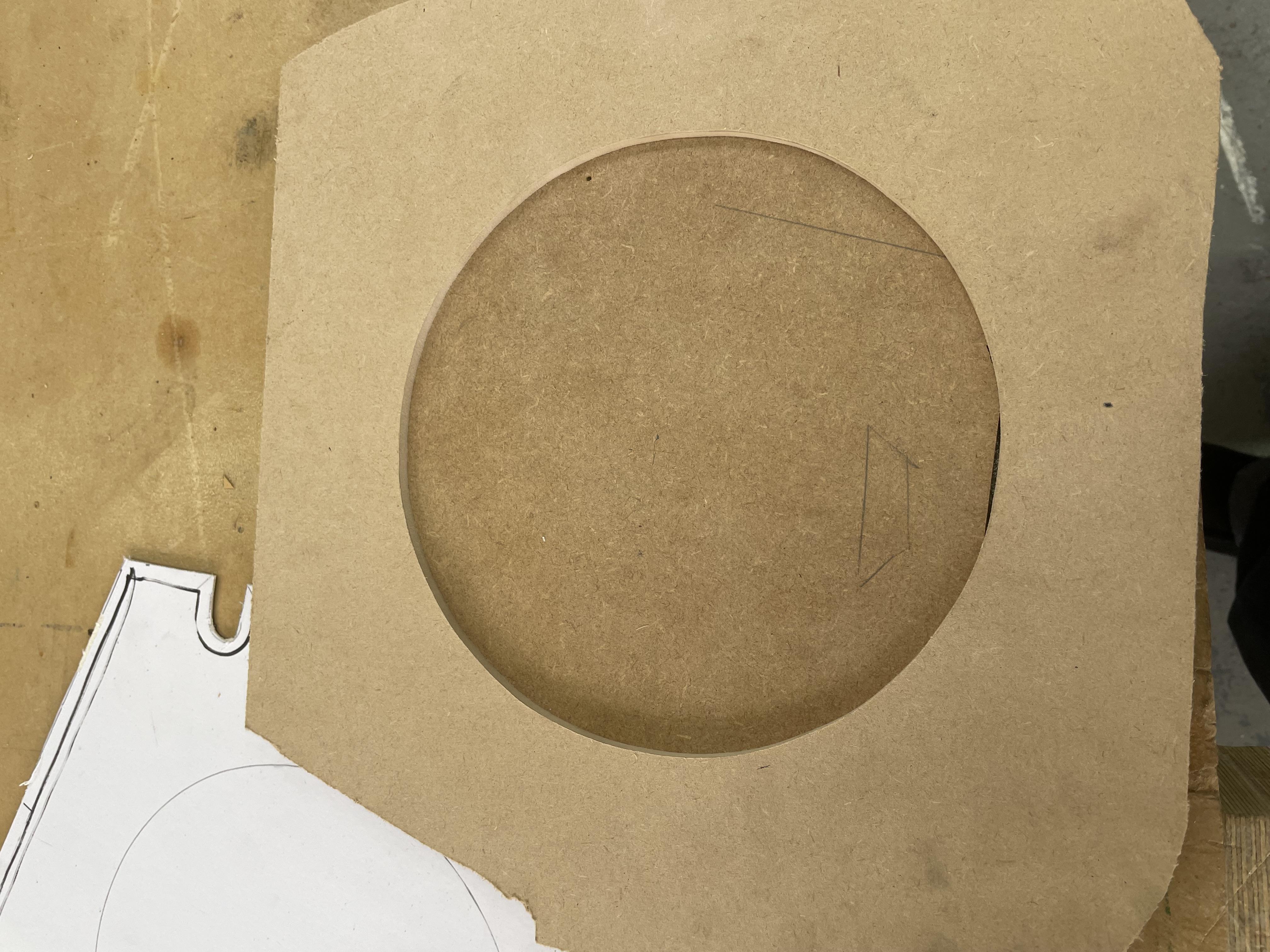 This was in the wood lab; the creation of a circle sliding through a whole, the initial idea of how you could sit on the circle and it would slide through a whole in a seat. The white cut out behind the wood is a tracing of the shape needed to place onto the empty chair.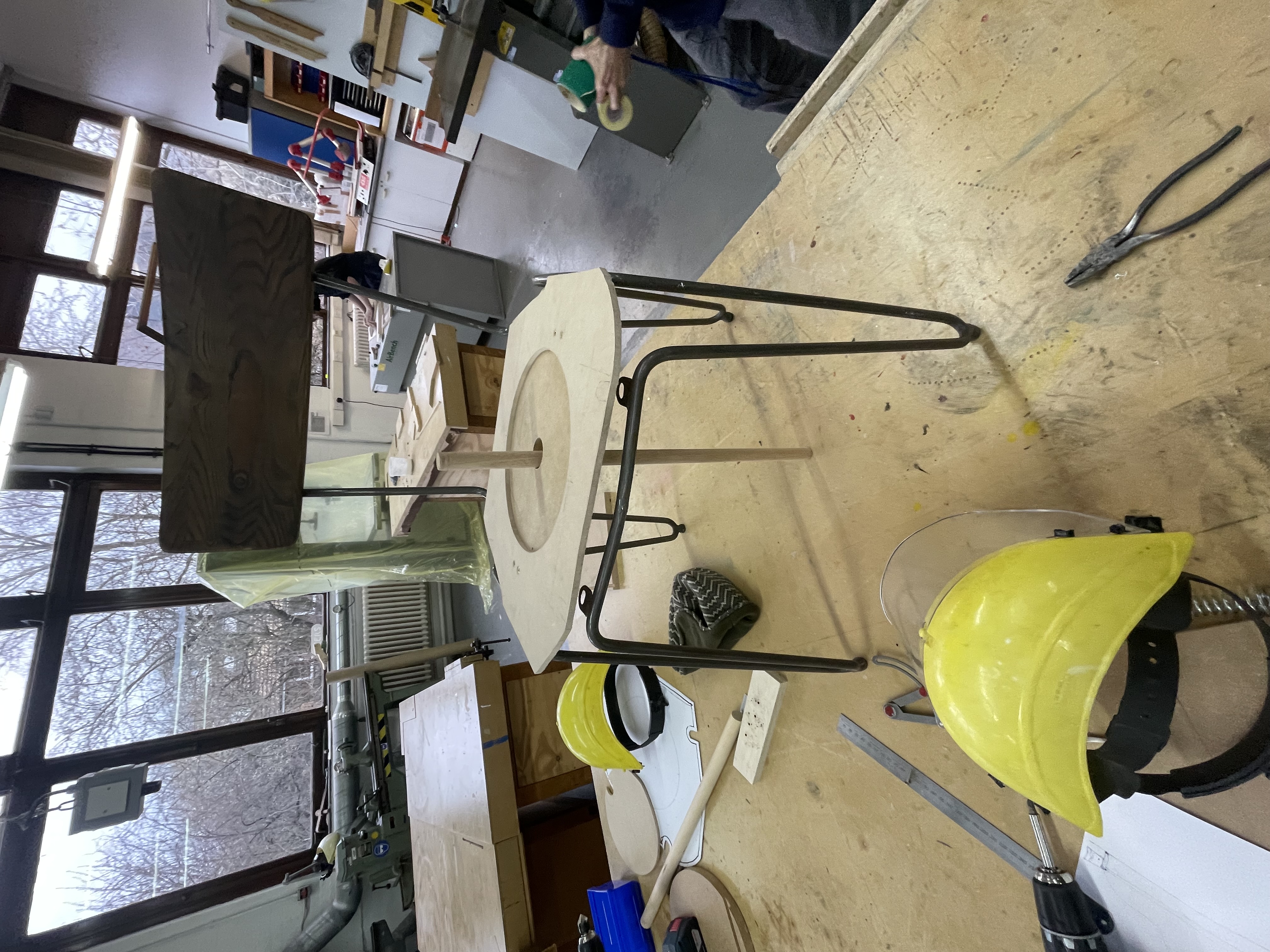 I spent the day bringing my sketch to life, I was not going to add feet the came up when you sat on it because it became to complicated. But Through the process of sitting on it the dowel through the middle of the chair would push down and activate a button. The cutting and smoothing of wood was very satifying and nice to create something that was physical and nearly usable. I had a spring but it was too big and the siffness of it was too dense so it would have slipped out when the circle was sat on. So, i ordered 10 springs and had to wait to they arrived to see the cahir functioning.


Febuary 9/10th: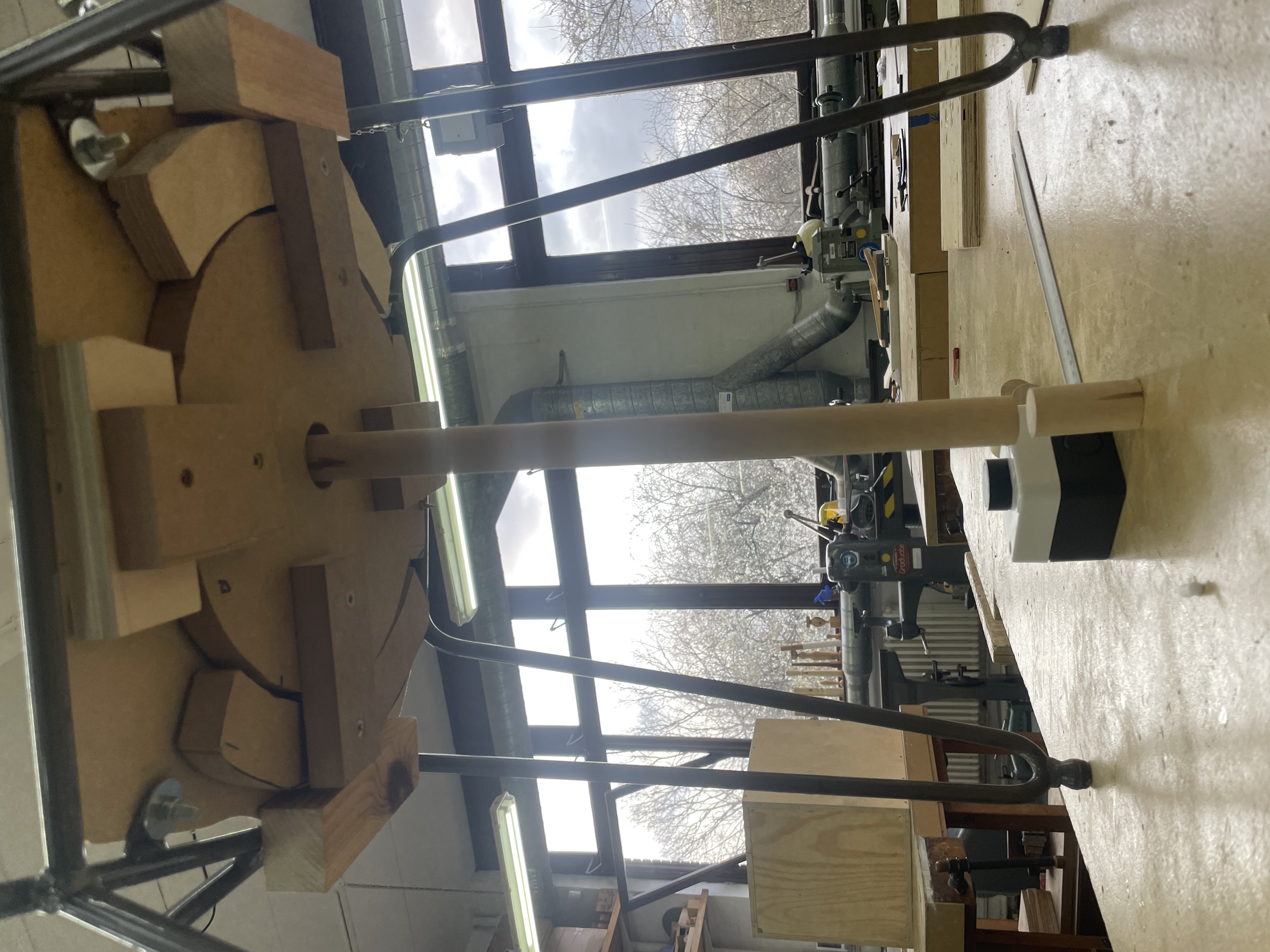 Completion of the chair took longer than expected but with alot of breaking and reinforcing I managed to get it to click up and down onto the green fire exit button I had bought. With the combination of learning the physical components and computing I want to mould the two subjects together to get the chair to activate something that would not be considred ordinary. For example project a light somewhere or activate another mechanism.
IDEA GENERATION FOR NEXT PUSH BUTTON ACTIVATED MECHANISM.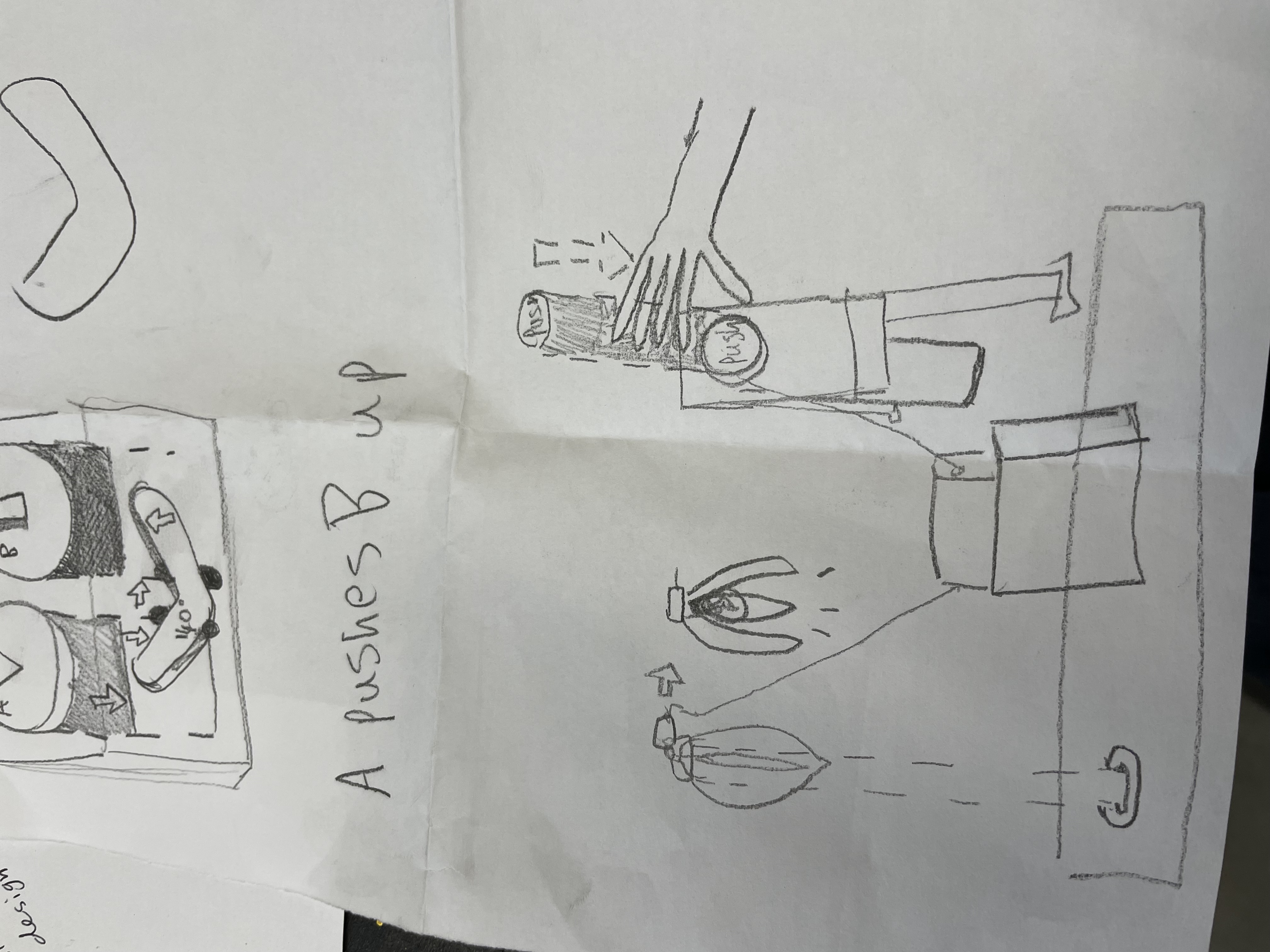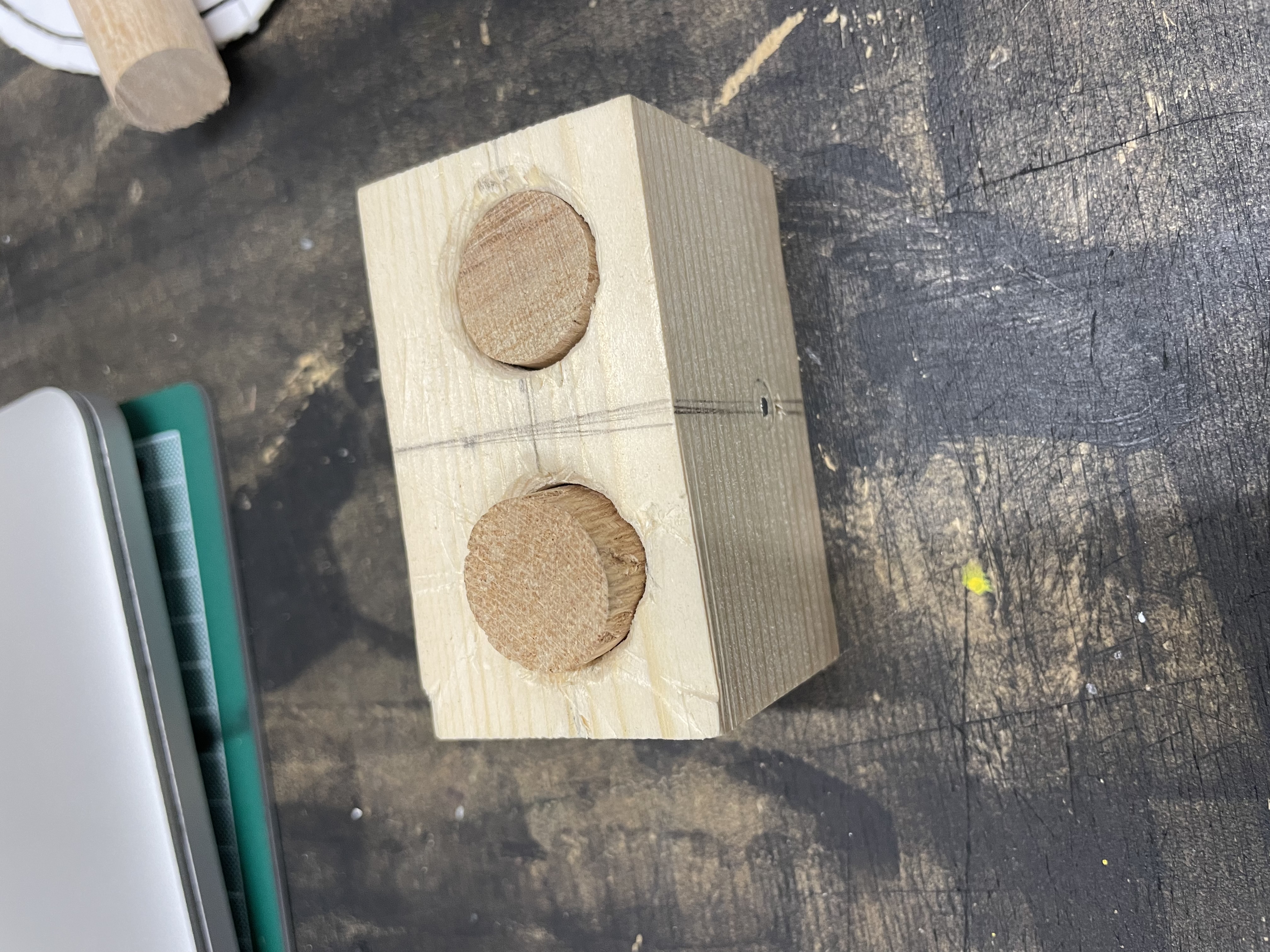 This is a button mechanism that hides its inner mechanisms and complexities to present a never endless cycle of satisfying button pressing.
I tried to refine the design of this button by laser cutting it so it could be a more presise mechanism. However after cutting and sticking the wood and acrilyic together I discoverd that I prefed the one I had made by hand beacuse it had more personality to it and felt less artificial.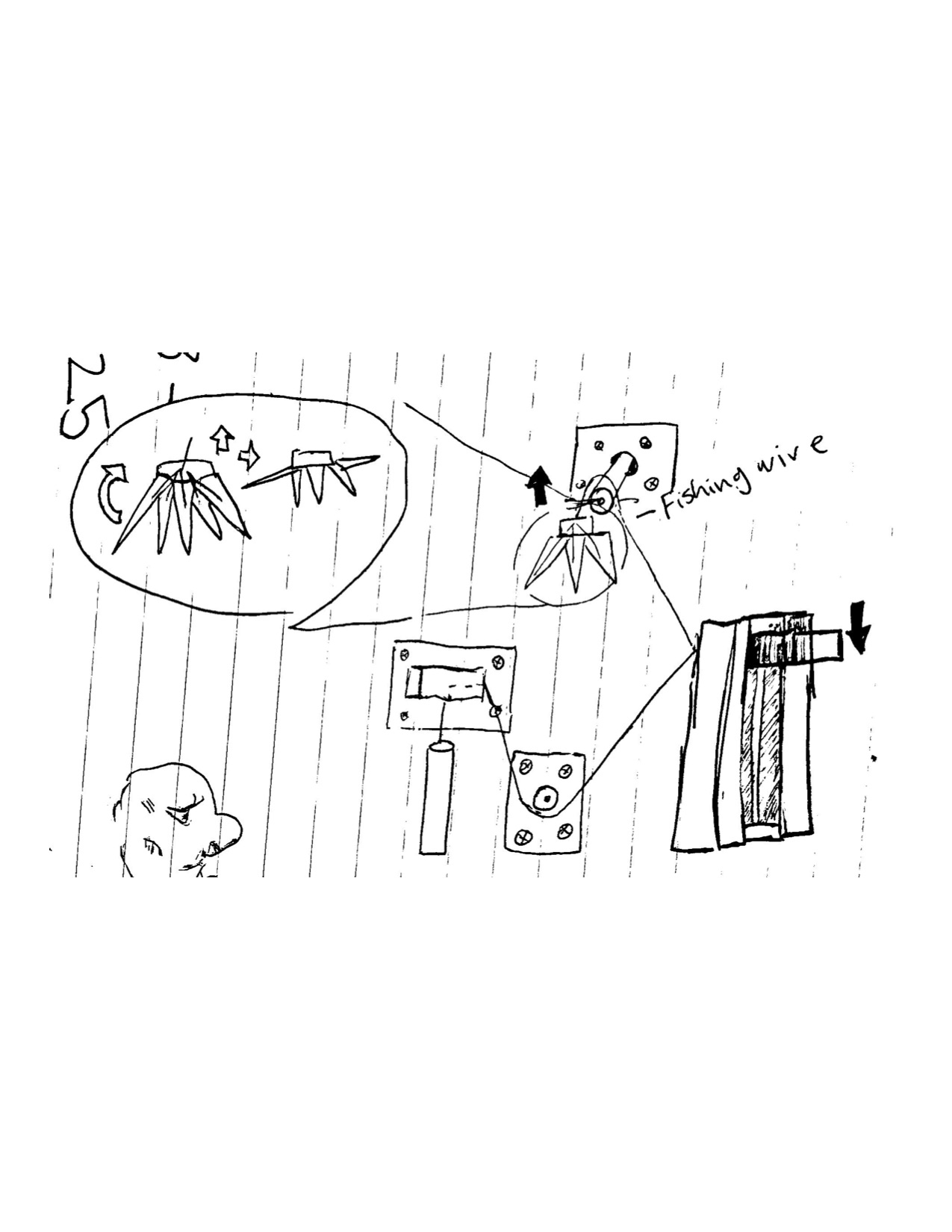 I











Idea generation for a new contraption that would complicate a circuit and complete a task usually by human control.
After that simple sketch I made the week before I decided to take the sketch to the labs where I was told that I should draw it out with more measurment and precision. I agreed but I had an image stuck in my head and I knew I could make it work myself so I created this contraption from wood and a dowel then connected some metal hooks and used a hair band to make the platorm surronding the dowel spring up and down due to the elasticity of its nature. To conclude im glad i decided to just make this idea from a rough sketch because it came out how i imagined it. I cut a hole with a line in the back so the platform moving up and down could control fishing wire attached to someting else giving the object on the other side of the fishing wire would move up and down due to the slack of the wire being reduced and increased.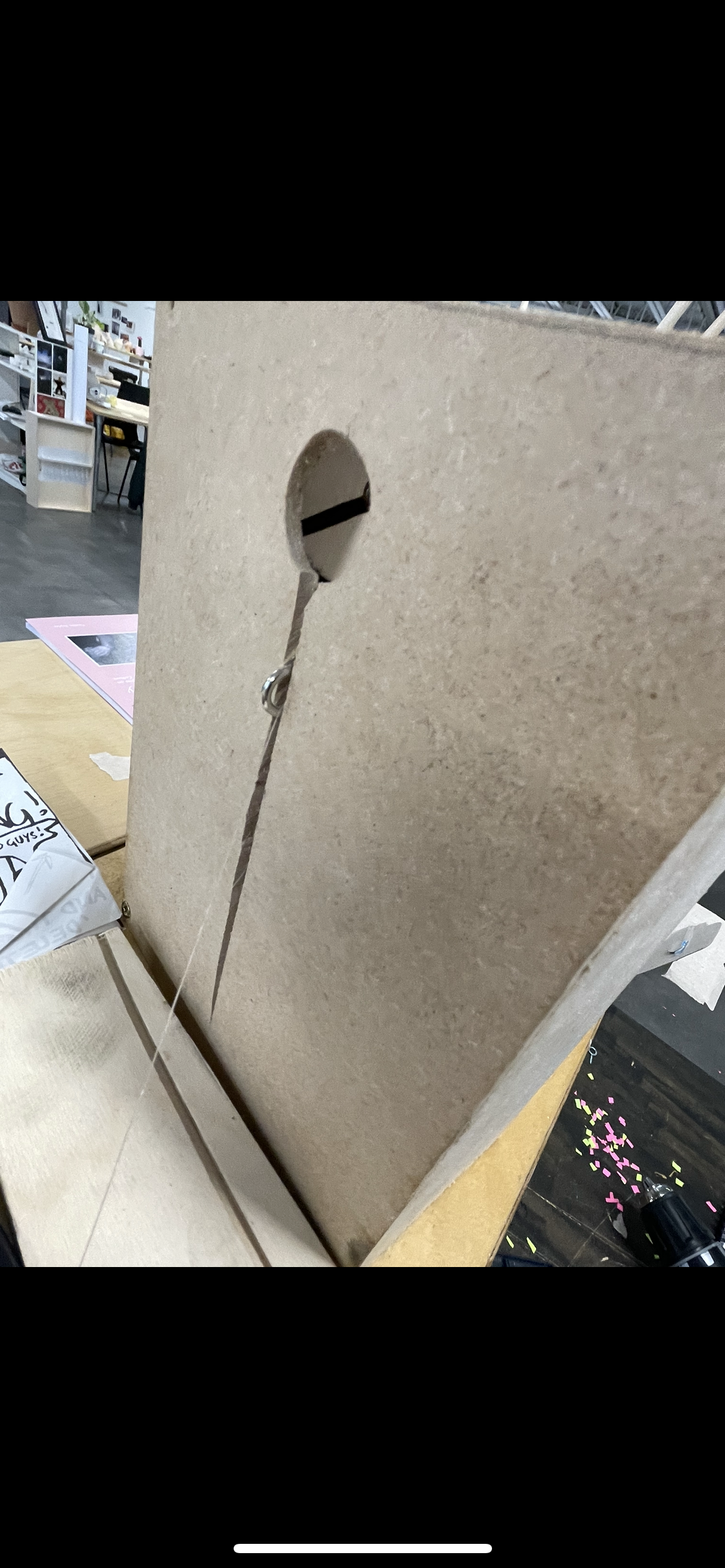 The picture on the left shows how the wire operates and is connected to the platform inside. I remembered I had a mould of my finger from first year that i thought would be interesting to place on the end of the wire and be able to control that finger moving up and down via the platform. I bought some elastic thimbels that go over ones finger to make it touch screen. I thought this would work if I put it on any material, however i discoverd that it only works on a human finger or skin contact because we are electronically conductive and we gorund the material for it to be able to conduct and have an interaction with our phones.

I thought this was the end of this idea however I then had an idea that if I could somehow get the material in question to attach to the beggining of the circuit AKA: the touch of a hand ,completing the conductive material, then the circuit should work. So I decided to use conductive soldering wire aswell as fishing wire so that if the material was placed on the platform at the start it could travel through the conductive wire and interact with the phone as well as still having the resistence to be able to give the mechanism slack through the fishing wire. The Gif on the right shows the metal wire carrying the conductive connection of the intial finger press on the material on the platform.

The pictures above show the connection between the material rendering the finger at the end of the circuit have touch screen abilities.




After hooking up the button by soldering and screwing down wires i wanted the fan to do something it usually wouldnt and create an unexpected effect. I decided to cut up lots of post it notes


Connecting the chair with the button mechanism to complete an unorthadox circuit.
7 WEEK WIP SHOW THE LAYOUT:
The layout of my work


Using a sound impact hooked up to an osciloscope allows a it to be hit and make an effect as frequency on the analouge device. Putting it in the X and Y mode allows the machine to project this impact in a more pattern designed manner and makes a unique shape every press. Giving people an opportunity to press a button how they like to recive an outcome they would like to pecieve through the nature of frequency a sense we dont usally get to peceive in day to day life.
15TH MARCH




Are you in control of the buttons you are given or are you being controlled by the buttons you are supplied make stuff les binary




Yes or no all the time




Do Diy buttons is the reason they are intriguing as reason why we should make our own systems or is there more that we can gain from different options and nuances, haptic feedback etc. how can we make buttons more interesting.




Buttons on the verge of dysfunctions, am I anti-button




Chair is hesitant to press button is eliminating the binary process and simplicity of its nature.




Human phalabity = imperfect phalable




My buttons are phalable what if they had a riot and didn't always do there job




Buttons present given pathways and I'm speculating, my buttons suggest ambiguous outcomes and control to a straight forward way of boring operation in day to day life. I want to Mod ordinary buttons from day to day life.


FIRST MOD IDEA: FOOT PEDAL PRESS TRAFFIC LIGHT BUTTON:
This is a creation on photoshop I made in a facetious manner to specualte the binary boringness of just pressing a button. I wanted to add some skill and flippantness to the act of pressing a button. However this also sparked an idea on how i could show an installation to specualte different ways of pressing button.
This was an idea I had for a final peice I could make that demonstates 6 different ways you can activate a switch which is usually pretty simple and a mudane act we go about in day to day life. It helps to question the given control we are supplied and wheather that is something be want to comply to or not. although it is somewhat of a paradox as I am suppling different ways of control it still helps to specualte the ways in which control could be changed and personalised.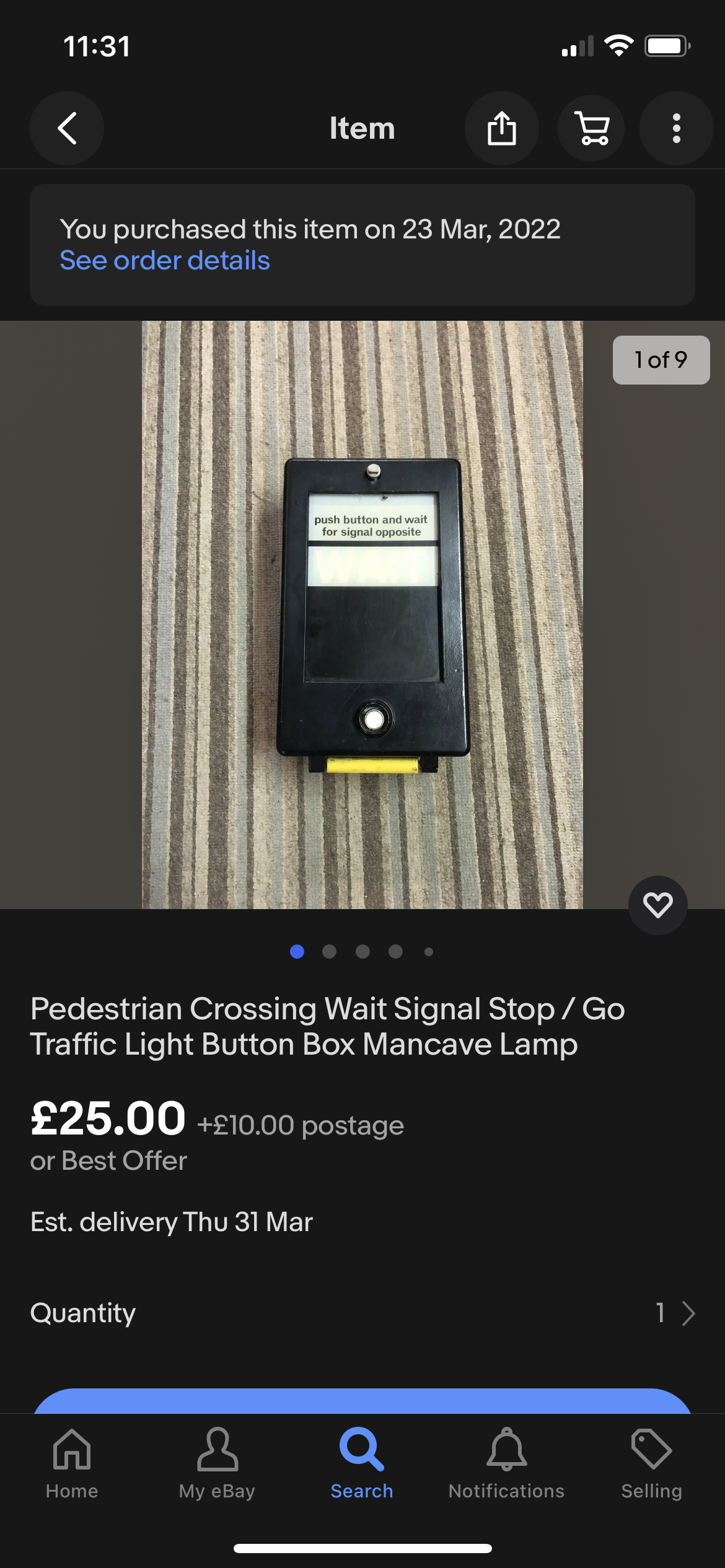 Impulse desicion to buy a traffic light button box.








This project inspred me aswell, to see people interact will such a mudane act in a whimsical and personal way showed that small activations in life can be made much more enjoyable and memorable.
︎FRIDAY 25TH MARCH:︎
The project dosen't end in a single button!
The project will show a range of motion and distinct variables of control. A potentiometer is not just black and white why should any button be. The project will aim to speculate personalised control and the invasion of perculiar supplied control in situated circumstances. The project is on an axis of potential and control. X AND Y. How can the modification of everyday control destroy the limitaions of a binary on and off life. Changing perspectives of repititive life control will help people see the possibilites of a more exciting life.
︎MONDAY 28TH MARCH:︎

THE END PRODUCT SHOULD BE A TOOL TO ALLOW PEOPLE TO CREATE THEIR OWN CONTROL THROUGH THE CREATION OF THEIR OWN BUTTONS, KNOBS, SWITHCES POTENTIOMETERS, ETC. CODING WILL BE NECESSARY TO ALLOW PEOPLE TO CHOOSE AND FASHION THEIR OWN CONTROL FROM SCRATCH. IMAGINE CHOOSING A CONTROLLER FOR HOW YOU WAIT TO CROSS THE ROAD. WHAT IF IT WASN'T JUST A BORING BUTTON? WHAT IF YOU COULD DESIGN YOUR OWN WAY OF CONTROLLING A SITUATION. NOT EVERYTHING SHOULD BE CONTROLLED BY THE WAY YOU ARE SUPPLIED TOOLS AND FUNCTION. FOR EXAMPLE IN PHOTOSHOP YOU ARE LIMITED BY THE TOOLS YOU ARE GIVEN WITHIN THE APP.
EVERYONE SHOULD BE ALLOWED TO DESIGN THEIR OWN CONTROL, MAKE THEIR OWN "SOFTWARE" TO TRAVESE THEIR LIFES.

ALTHOUGH IT IS IMPOSSIBLE TO TRANSLATE DIGITAL INFINATE RANGE OF CONTROL TO REAL LIFE CONTROLLERS, BECAUSE YOU CANT HAVE SHAPESHIFTING MATERIAL. HOWEVER, THROUGH LOOKING AT MUDANE ACTS AND BINARY DECESIONS,



IT IS POSSIBLE TO EXPOSE MORE RANGE AND DESIGN OF CONTROL THAN WE ARE GOVERNED BY NOW. ALLOWING PEOPLE TO HAVE MORE AUTHORITY AND REGULATION FOR ACTS THAT FEEL SET IN STONE. EXAMPLE: TRAFFIC LIGHT BUTTON.
March 27th- 29th:


FIRST BUTTON CREATED TO POWER A FUNCTION THAT WILL BE ACCOMPANIED BY MANY OTHERS. THE FOOT PEDAL IS A GREY SCALE OF POWER AND "ACCELERATION", IT HAS ALOT OF POTENTIAL BUT NOT LOADS OF SOLID CONTROL.
CODING WITH THE BUTTONS GIVEN ON A COMPUTER TO CREATE A INTERACTION WITH CONTROL OVER HOW YOU USE THE BUTTONS.
I WOULD LIKE TO MAKE A WEBISTE OR APPLICATION THAT ALLOWED PEOPLE TO DRAW THERE OWN BUTTONS TO THEN USE FOR HOW THEY THINK THEY SHOULD CONTROL SOMETHING.


29th march:
︎︎︎︎︎︎︎︎︎︎︎︎︎︎︎︎

OUTCOMES:
INSTALLATION, SHAPESHIFTING BUTTON, A TOOL, A FILM, DEMONSTRATION
AN OVERVIEW OF THEIR PROJECT NARRATIVE:
EVERYONE SHOULD BE ALLOWED TO DESIGN THEIR OWN CONTROL, MAKE THEIR OWN "SOFTWARE" TO TRAVESE THEIR LIFES.
A TIME PLAN/ SCHEDULE OF PRODUCTION:
I DON'T LIKE SCHEDULE
100 WORD PROJECT DESCRIPTION:
The project will aim to speculate personalised control and the invasion of perculiar supplied control within situated circumstances. How can the modification of everyday control destroy the limitaions of a binary on and off life? Changing perspectives of repititive life control will help people see the possibilites of a more exciting life.

THE END PRODUCT SHOULD BE A TOOL TO ALLOW PEOPLE TO CREATE THEIR OWN CONTROL THROUGH THE CREATION OF THEIR OWN BUTTONS, KNOBS, SWITHCES POTENTIOMETERS, ETC

. NOT EVERYTHING SHOULD BE CONTROLLED BY THE WAY YOU ARE SUPPLIED TOOLS AND FUNCTION. FOR EXAMPLE IN PHOTOSHOP YOU ARE LIMITED BY THE TOOLS YOU ARE GIVEN WITHIN THE APP, endangering your creativity and holding back potential. THROUGH LOOKING AT MUDANE ACTS AND BINARY DECESIONS, IT IS POSSIBLE TO EXPOSE MORE RANGE AND DESIGN OF CONTROL THAN WE ARE GOVERNED BY NOW. ALLOWING PEOPLE TO HAVE MORE AUTHORITY AND REGULATION FOR ACTS THAT FEEL SET IN STONE. EXAMPLE: PRESSING A TRAFFIC LIGHT BUTTON. ANARCHY WITHIN CONTROL; INDIVIDULIST MANIPULATION OF EVEN THE SMALLEST OF CIRCUITS AND SYSTEMS.

︎︎︎︎︎︎︎︎︎︎︎︎︎︎︎︎
WITH THE BUTTON I HAD WIRED UP TO THE FAN I WANTED TO TRY AND TURN SOME BATTERY POWERD DEVICES INTO A BUTTON ACTIVATION SYSTEM. THROUGH THIS I WOULD BE ABLE TO SEE THE CIRCUITS OF ELECTRONS AND HOW I COULD CONNECT THIS BUTTON TO COMPLETE A BUTTON ACTIVATED CIRCUIT WHICH WAS NOT THE PURPOSE BEFORE, GIVING CERTAIN CONTROL TO SUPPLIED APPLIANCES SHOWS THE POSSIBILITES OF EXPLORING ALTERNATIVE CONTROL. I FOUND SOME OLD SOLAR PANEL CHARGED FAIRY LIGHT AND WANTED TO TURN THE DC (DIRECT CURRENT) INTO ALTERNATING CURRENT (AC). AT FIRST I TOOK MY BUTTON APART TO TRY AND UNDESTAND THE MECHANISM THAT WAS CONNECTING THE CIRCUIT, AFTER THIS I TRIED TO CONNECT THE PERTRUDING WIRES TO WIRES ON THE SOLAR PANELS BATTERY BOX WIRES THAT WERE GOING INTO A MICROCHIP.
(ALL OF THIS WAS MOSTLY GUESSING BUT I WANTED TO ATTEMPT TO FIX A FLOW OF ELECTRICTY SO I COULD IN FUTURE HOPEFULLY CONNECT A BUTTON TO THINGS THAT DONT NEED BUTTONS).
I WAS SHOCKED WHEN I GOT THE FAIRY LIGHTS TO GIVE OFF A CERTAIN BURST OF LIGHT I HAD NO IDEA THAT THIS WOULD WORK. AFTER THIS HAPPENED THE LIGHTS WOULD NOT REACT TO THE BUTTON PRESS AT ALL. I WAS ANNOYED BEACUSE I WISHED I HAD FILMED IT. I THEN TRIED TO SOLDER THE WIRES TOGETHER AS BEFORE THEY WERE JUST TIED TOGETHER SO I THOUGHT SOLDERING WOULD MAKE A MORE COMPLETE A STURDY CIRCUIT. UNFORTUNATLEY THIS WAS NOT THE CASE AND THE CIRCUIT HAS WORKED SINCE THAT SPARK OF LIGHT.
PUBLIC EXPERIMENT WITH BUTTON CHOICE IDEA:

Create a board of loads of different ways to turn on a light. give to the public see which button is most attractive. This button will do something bad

︎︎

this button will do something good.

︎︎x
Outcomes:

A HAND PAD THAT COULD TURN ANYTHING INTO A BUTTON. PUTTING PRESSURE ON AN OBJECT WOULD RENDER IT AS A BUTTON. ALLOWING INFINATE CONTROL TO ANYONE USING THIS GLOVE OR PAD BECAUSE THEY ARE CHOOSING THERE CONTROL AND THEIR ACTIVATION.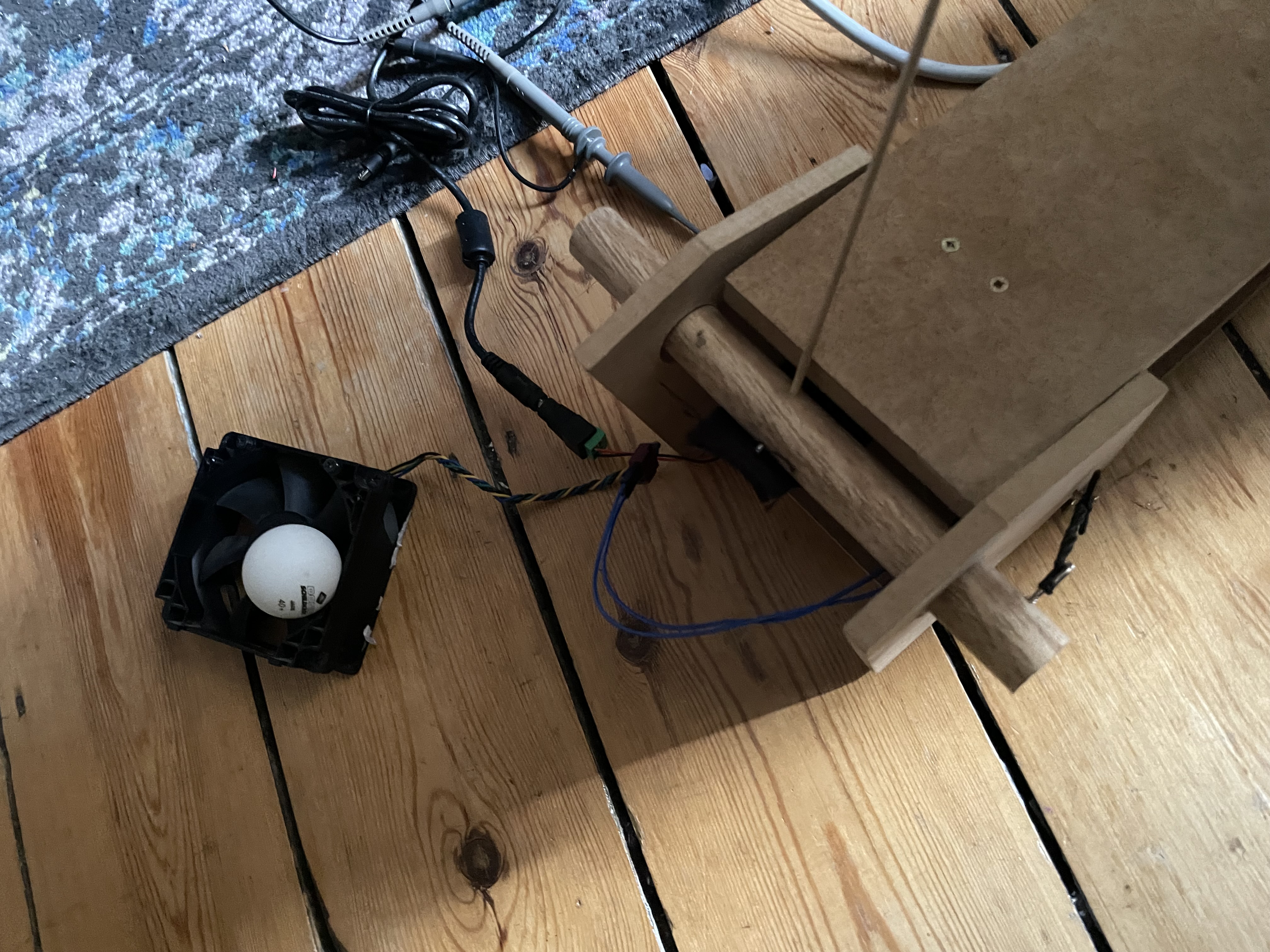 Placing the button connected to the fan underneath the footpedal for it to complete a circuit and be a button for electrical activation.
4th April


traffic light arrives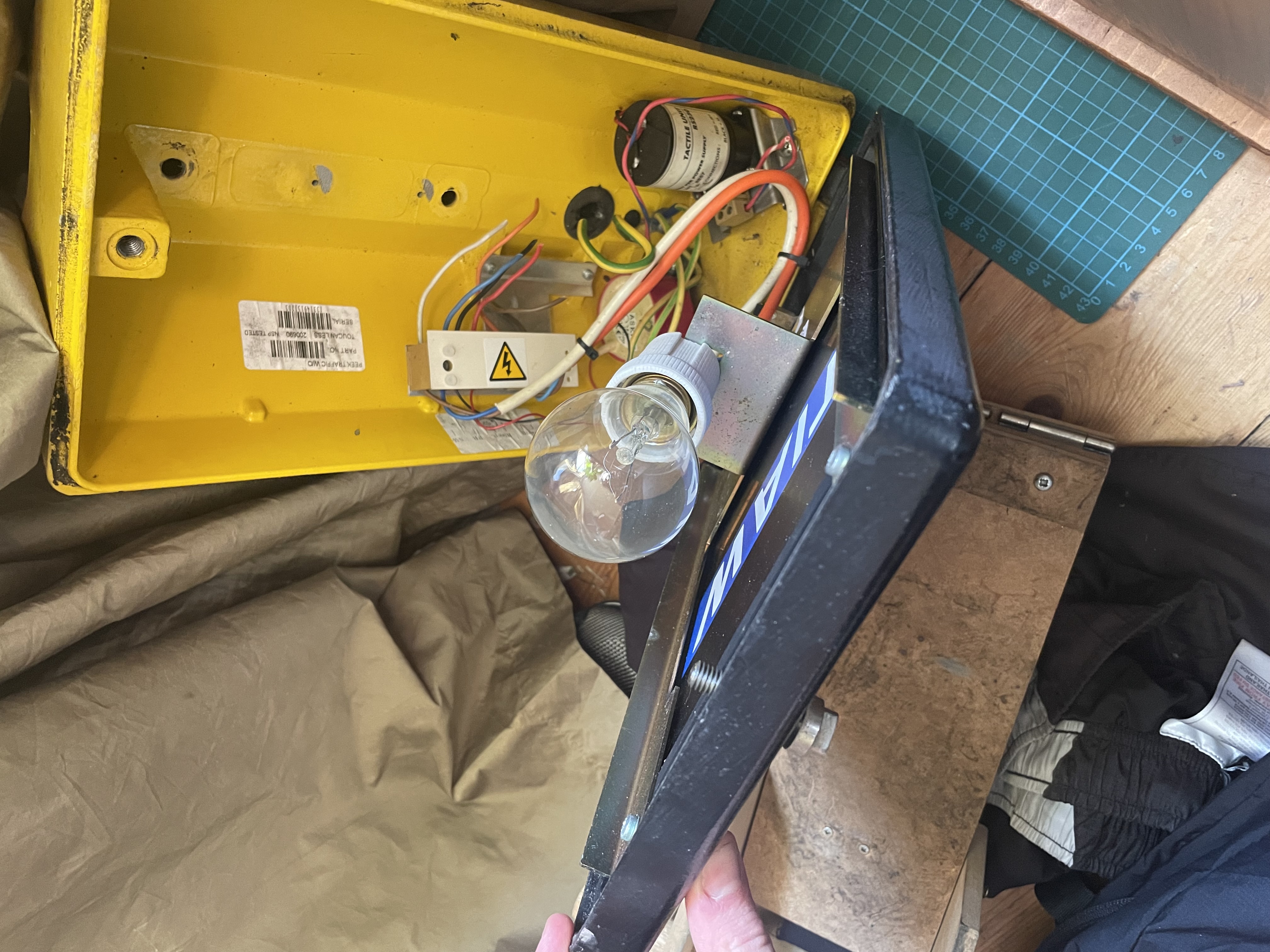 The inside of a traffic suprised me because it just had an ordinary lightbulb in which of course is how it lights up but I didn't expect it to look so ordinary. I thought it would look a bit specialised to fit into the shape of the box but perhaps the box is designed around the way a light bulb looks. The button is very satisfying to press. I had a look online on how to rewire the button box but nothing came up so im waiting on some help to hook it up to AC current so that it can be turned on via the button.
6th of April organised show: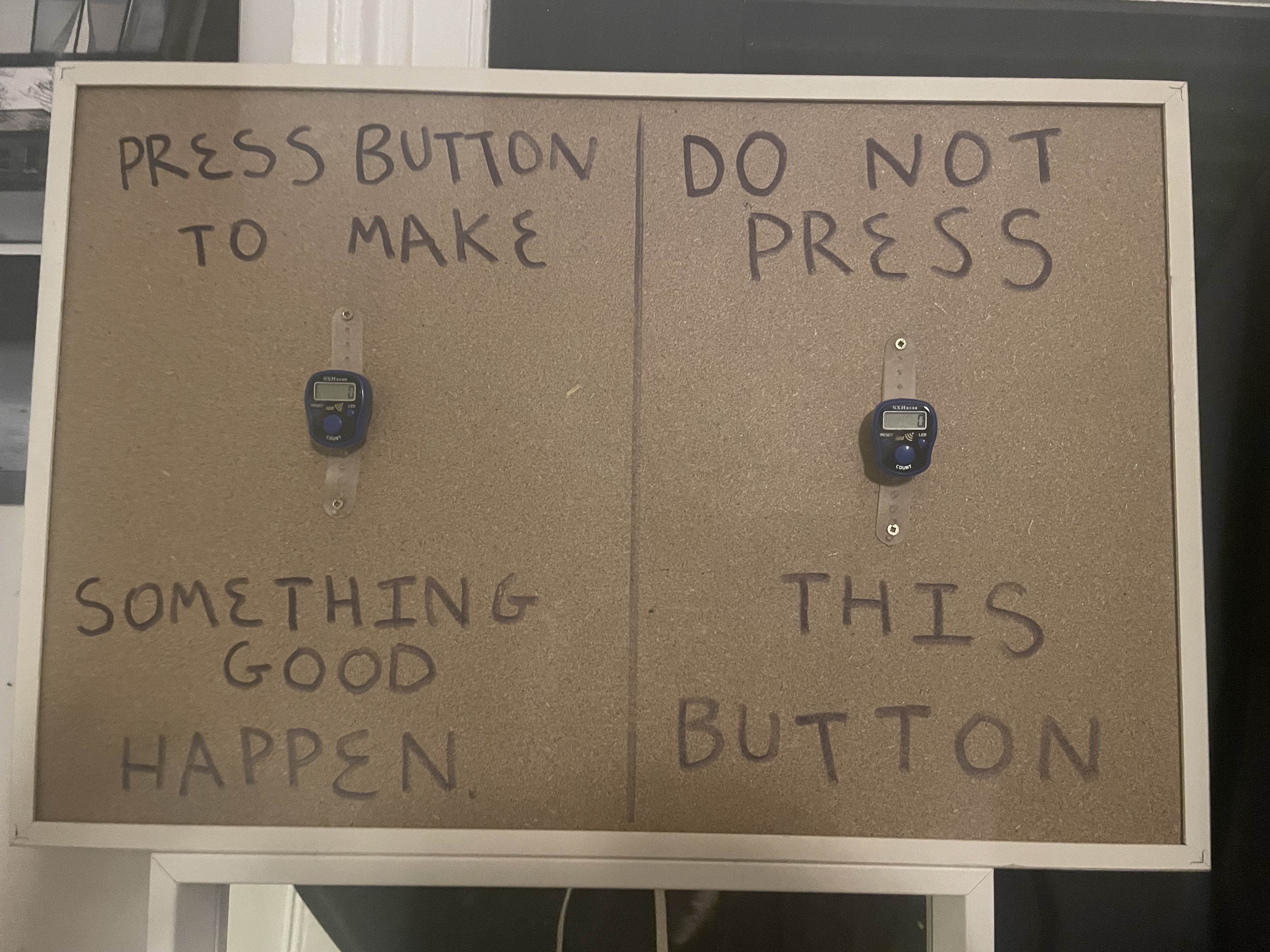 This picture above was a conceptual peice I created to see the authority of messages and buttons and how they can make people react in a social setting. It was interesting to see how people interacted with this at our show, I didnt know if I was because people are more intoxicated but it seemed people wanted something good to happen. I made the other side say 'DO NOT PRESS THIS BUTTON' because it suggests that something complety random could happen when you press it, for example something better than good could happen. I still have the peice put up in my bathroom at home to see how over a long time the numbers on the conunters will go up. Currently the 'PRESS BUTTON TO MAKE SOMETHING GOOD HAPPEN.' currently has approximately 30 more presses.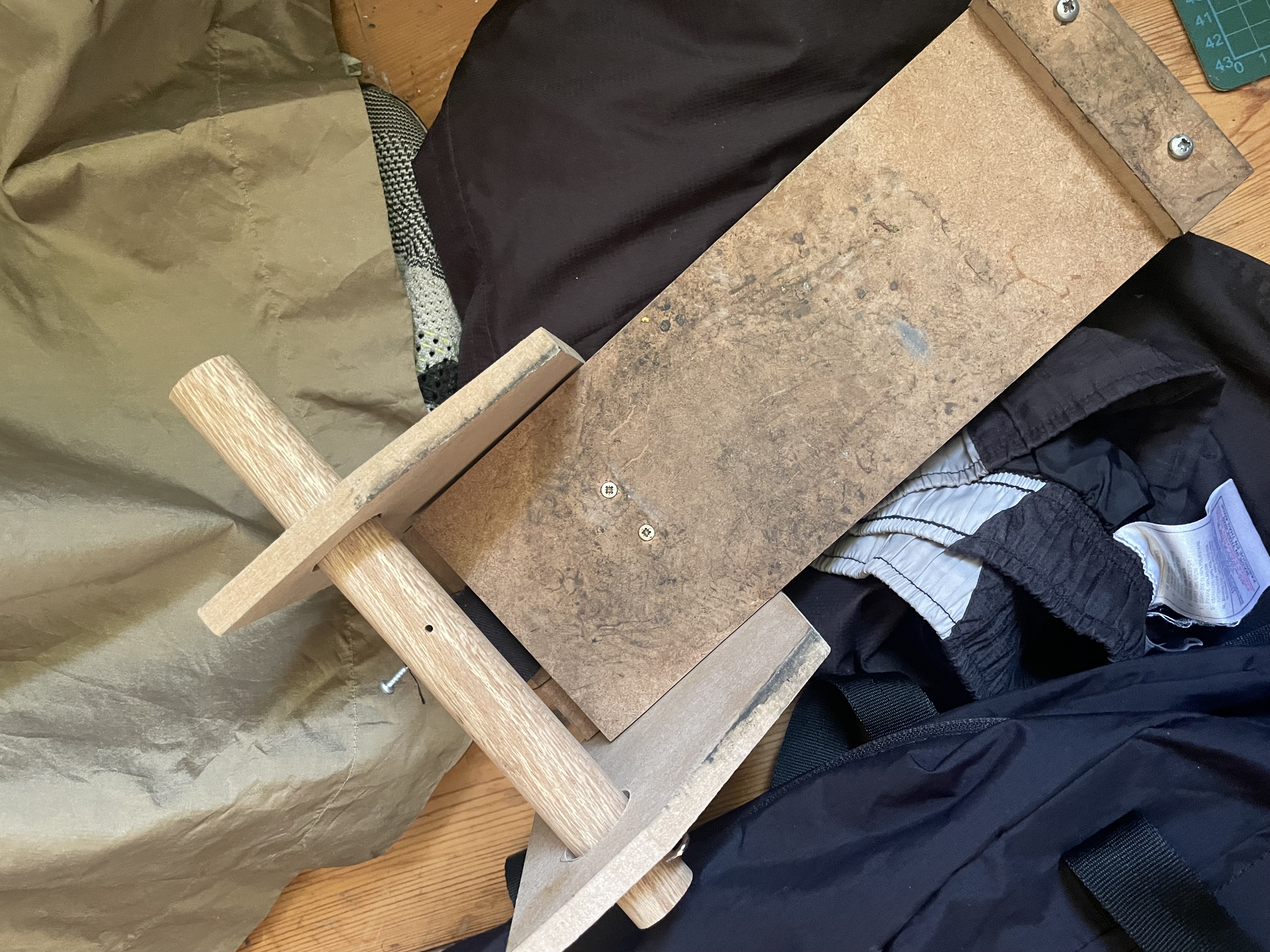 This was the aftermath of the foot pedal after leaving it out for people to interact with. I am thinking I want to have one in my final peice so I might recreate it out of metal.
At the show I had a button hooked up to my tektronix oscilloscope which was placed under the foot pedal so that people could press this foot pedal and the frequency of the electricity would turn off when pressed; this displayed a pattern that show the fading of the frequency turning off. This was fun because my peice was the only interactive one, however the foot pedal paid the price. It worked with my project because I was giving people a choice to control and shape the art.

People interacting with the pedal.
FINAL PEICE AND VIVA 4 WEEKS LEFT 24 APRIL:
THIS SLIDE SHOW IS THE FIVE BUTTONS I WILL BE HOOKING UP TO A TRAFFIC LIGHT TO SHOW ALTERNATIVE BUTTONS CONTROLLING A SIMPLE TASK. THERE ARE TWO THOUGHT PROCESSES THAT FIT INTO THE PURPOSE OF THIS INSTALLATIONS WHICH I DISCUSSED WITH MY TUTOR ON THE
26TH APRIL:
The convinience of a button has
Should there be a relationship with the ease of a button and the consequence

The significance of design of the placement of a button

Should the degree of convenience relate to the degree of the consequence the button produces.

Slowing down life
Enabling speeding up to occur. Buttons enable the acceleration of processes and the systematic race of life.
Everything is made for convenience, and the pathway is shown
Butterfly cascade of a button press - diagram
LEFT SIDE:

SLOWING TIME:
THE IMPLICATIONS OF A CONVENIENT BUTTON


Life is too fast the instant press of a button

Can make products appear at you house the next

Day or even the same day.


The convenience of button has made life to quick

Life is too chaotic and moves to fast


We need to put the chaotic nature of pressing a button equal to the

Effect it gives


A traffic light button stops people from getting places maybe delaying

something important, the act of stoping traffic is too simple to give that effect.
RIGHT SIDE:

Everyone should be inspired to create their own control.


Not just accepting of the way life is designed in front of them.


You are limited by the control you are given.


Everyone should be modding their life to fit their personalised needs and characteristics.




P

eop

le mod controllers, why can't they mod there was through life.


Does the fact that it is shared property change the way we should personalised our control.
1ST STEP

TO INSTALLATION: FIXING TRAFFIC LIGHT

I had help from Pete (Tutor) to understand the wires inside the traffic light, fortunatley we figured out that most of the components inside were working when hooked up to a power supply. Inside there was a beeper to tell people when to cross the road, a motor which had a rotating cone on the the bottom which told deaf people when to cross and a normal screw in light bulb which didnt turn on when the button was pressed but that was fine because I was changing the bulb to an LED DIMMABLE bulb anyway.

When initally trying to swap the bulb for led i realised the LED didnt give off light in a circular manner and only shone from the top. Therefore I figured I would have to angle the light slighty to get it to illuminate the wait sign when concealed. I spent a while creating this small metal plate with intricately placed screws that would hold the light bulb at an angle and still be able keep the light within the casing of the box.
This was quite a precised process that cost me some time but when it was finshed I was glad I made it because it made the traffic light feel more authentic when it was lit becuase all of the word 'WAIT' WAS illuminated evenly.













This is a picture of the traffic light hooked up to a DC power supply which I think looks quite funny like it would sell at an antique shop. It was nice to see it lit up after having it over easter all that time.
2ND STEP:

START MAKING BUTTON 2: ALEXA CONTROLLED FINGER
This was one button I was trying to complete over easter but the code seemed to difficult, I had compiled all of the resources including the ship and code but I couldn't execute the motor working with the chip within the code.

when I got to use the workshops after easter I created a mold of my finger with a metal skeleton inside so I could attach it onto a motor so that the finger would dip down and back up again like a humans but initiated by voice control.
3RD STEP:

REINFORCING BUTTON 2: BUTT-ON CHAIR
I took apart the old chair because the wood it was secured with that all of the weight of a person was holding was not stronf enough because it was thin MDF wood. So I unscrewed all the screws and bolts and decided to remake the base of the seat on the chair.

On the right is the new carved, symetrical, solid 12mm PLYWOOD replacement.︎︎︎︎︎︎︎︎︎

After paying for the wood i decided it was definately worth the purchase beacuse even before it was bolted into the metal frame it could easily take my weight, now I wouldnt have to be worried about it breaking in my installation.




Pete helping to add a RELAY to the traffic light so it could be controlled through bluetooth, meaning the buttons that i was making could communicate with the traffic light creating a wireless interface, which will emphasize the power and consequences of a button with infinate wireless potential. Leaving people to question and think about the pushing of buttons in everyday life. The traffic light almost works as a trigger to bring people back into the real world and understand the importance and systematic placement of buttons within a desinged society to enhance proceduers and processes and how the slight change and manipulation of one can change the way we interact within a community and society.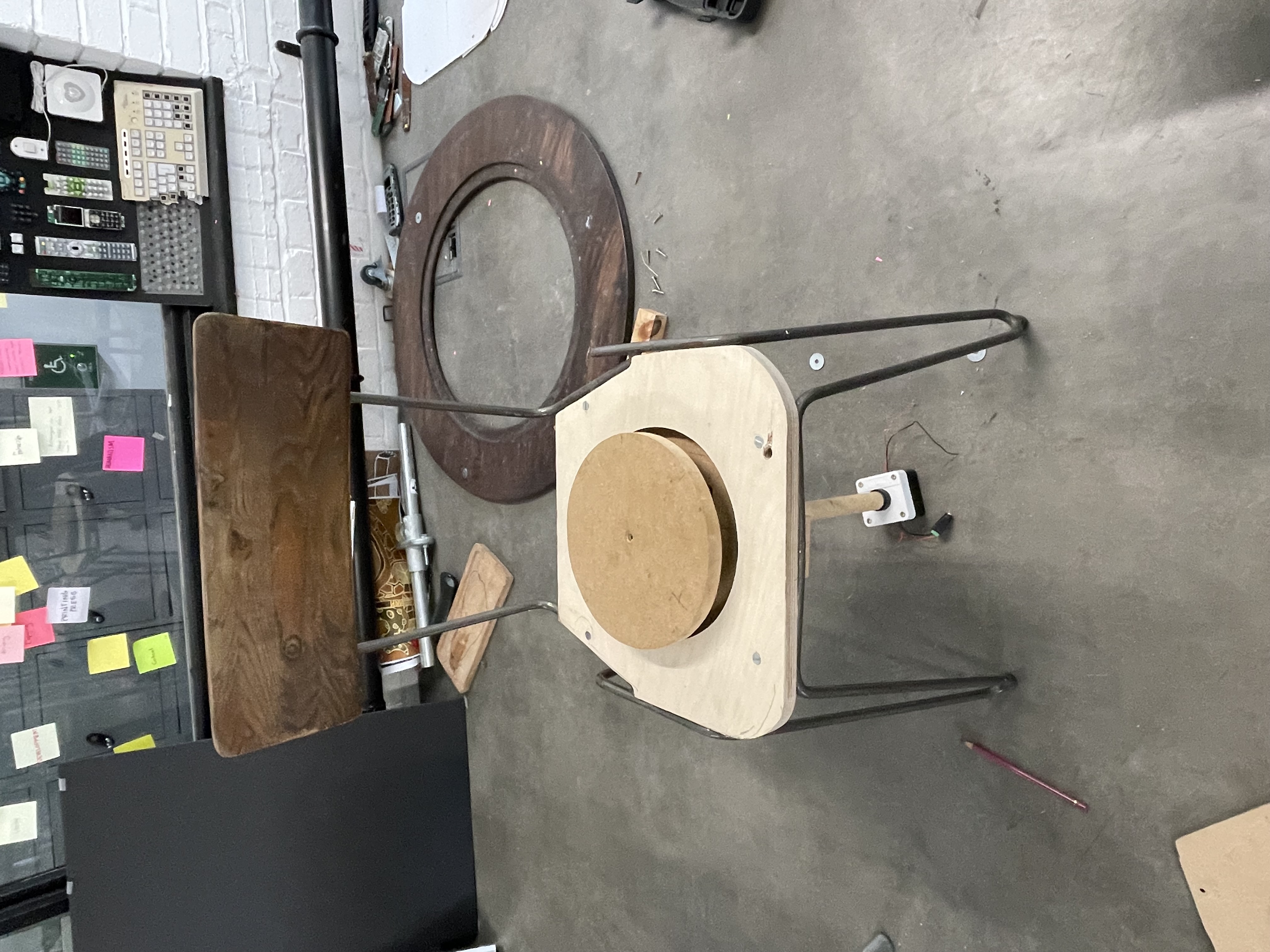 Demonstration of the chair button functionally turning on traffic light on. Which could also be configured to make the beeping sound you hear when you cross the road.
3RD BUTTON:
DYNAMITE PLUNGER SEE-THROUGH CASING TO SEE THE INNER MECHANISM. NEED TO ADD SPRING INSIDE SO THE PLUNGER IS RESPONSIVE. DEMONSTATION BELOW OF HOW IT WORKS USING THE BLUETOOTH IN THE CHIP CONNECTED TO THE BUTTON.