THE FIRST WEEK BACK WAS QUITE DAUNTING AS I HAD'NT BEEN IN THE STUDIO IN A QUITE A WHILE. THE FIRST WORK SHOP CONFUSED ME, I DID'NT UNDERSTAND WHY WE HAD ALL BROUGHT THESE POST IT NOTES AND HOW THAT WAS GOING TO CONTRIBUTE INTO A WEEK PROJECT. HOWEVER AFTER CATEGORISING ALL OF OUR THEMES IT MADE SENSE THAT THE STUDENTS WOULD BE CREATING THE BREIFS AND WE COULD MOULD THE UNDERSTANDING OF THE THEME WE PICKED. I PICKED THE DEEP UNKNOWN BECAUSE I THOUGHT IT WAS AN INTERESTING SUBJECT TO EXPLORE.


IT WAS INTERESTING AS A GROUP TO FIGURE A SCALE THAT WORKED WITH THE THEMES WE HAD ON OUR POST IT NOTES. WE TRIED GOOD VS. EVIL AND FIGURATIVE IMAGINATION TO REAL WORLD PLACES.



THESE ARE THE FIRST TWO PAGES I WROTE ON MONDAY WHICH I THINK ARE INTERESTING THOUGHT PROCESS WHICH I WANT TO TRY AND STICK TO THIS YEAR. I LIKE AND APPRICIATE THE IDEA OF TRYING TO MAKE SOMETHING EVERYDAY, EVEN IF IT IS SMALL I BELIVE IT WILL BENIFIT THE EVOULOTION OF MY DESIGN PRACTICE AND JOURNALISM THROUGH CREATION, MAYBE THAT WOULD BE WORKING ON MY WEBSITE, CREATING AN ILLUSTRATION, BUILDING A DIGITAL OR MANUAL SCULPTURE OR DOCUMENTING MY RESEARCH.


AFTER READING ALL THE STUDENT BREIFS ON WEDNESDAY I WANTED TO SELECT A REALISTIC AND EXCITING BREIF THAT I COULD CREATE SOMETHING FOR IN A COUPLE DAYS. I CHOOSE THE SCARY BREIF BECAUSE I WANTED TO SPECULATE THE TRANSFORMATION OF MUDANE OBJECTS AND CHANGE THE CONVENTIONS TO MORE INNOCENT AND CHILD FRIENDLY ASPECTS. I STARTED OFF MY PICKING SCARY OBJECTS AND IMAGINING THEM AS FRIENDLY OR SAFE OBJECTS. A MEDIVAL MACE ON A CHAIN WAS QUITE A SINISTER OBJECT SO I DECIDED TO SKETCH AND MODEL WHAT I COULD LOOK LIKE AS AN INNOCENT OBJECT OR WEAPON. I DIDNT THINK THIS CONCEPT HELD THAT MUCH DEPTH AND THOUGHT IT WOULD BE MORE INTERESTING TO EXAMINE HOW I COULD MAKE MUDANE OBJECTS SEEM MORE INCOMPREHENSIBLE OR SCARY.

THIS IS A REMOTE FROM THE 70's THAT IS ONE OF THE FIRST TO IMAGINE WHAT ITS LIKE TO NOT GO UP TO YOUR TV AND CHANGE THE CHANNEL MANNUALLY. IT WORKED MECHANICALLY SO THE BUTTON WOULD ACTUALLY TRIGGER PEDALS ON A WIRE THE PRESS THE BUTTONS ON THE TV.
ON THE LEFT ARE THE SKETCHES THAT I ORGINALLY MADE TO IMAGINE HOW YOU COULD SIMPLIFY AND RUIN THE FUNTIONALITY OF A TV REMOTE.
AFTER GETTING FEEDBACK FROM MY PEERS I REALISED THAT BOTH ITERATIONS ARE JUST AS SCARY AS ONE ANOTHER; ONE MAKES NO SENSE SO IS HARD TO UNDERSTAND AND THE OTHER IS TOO SIMPLE AND THE USER WOULD FEEL LIKE THEY LACK CONTROL WITH THE OBJECT IT IS USED FOR.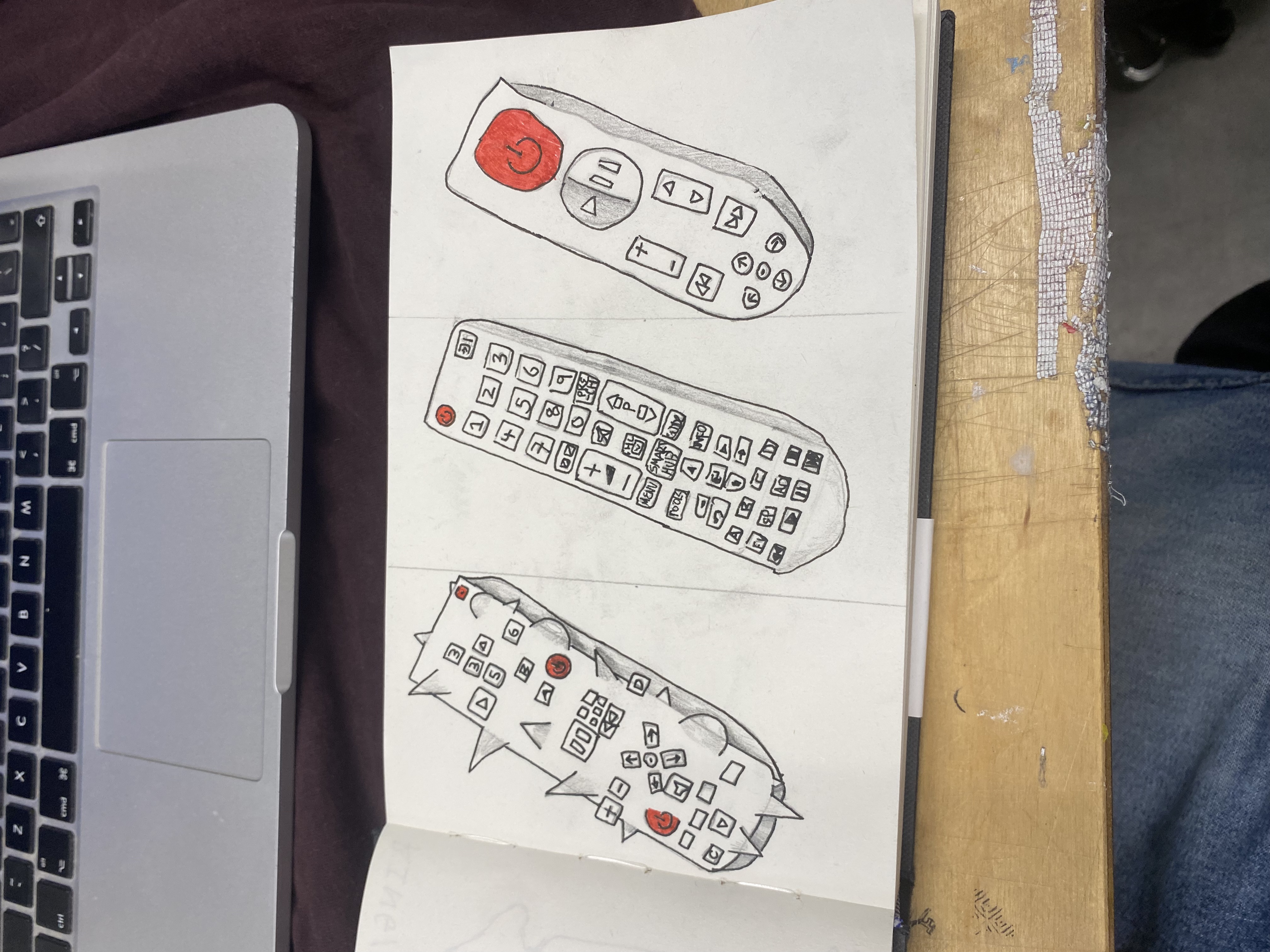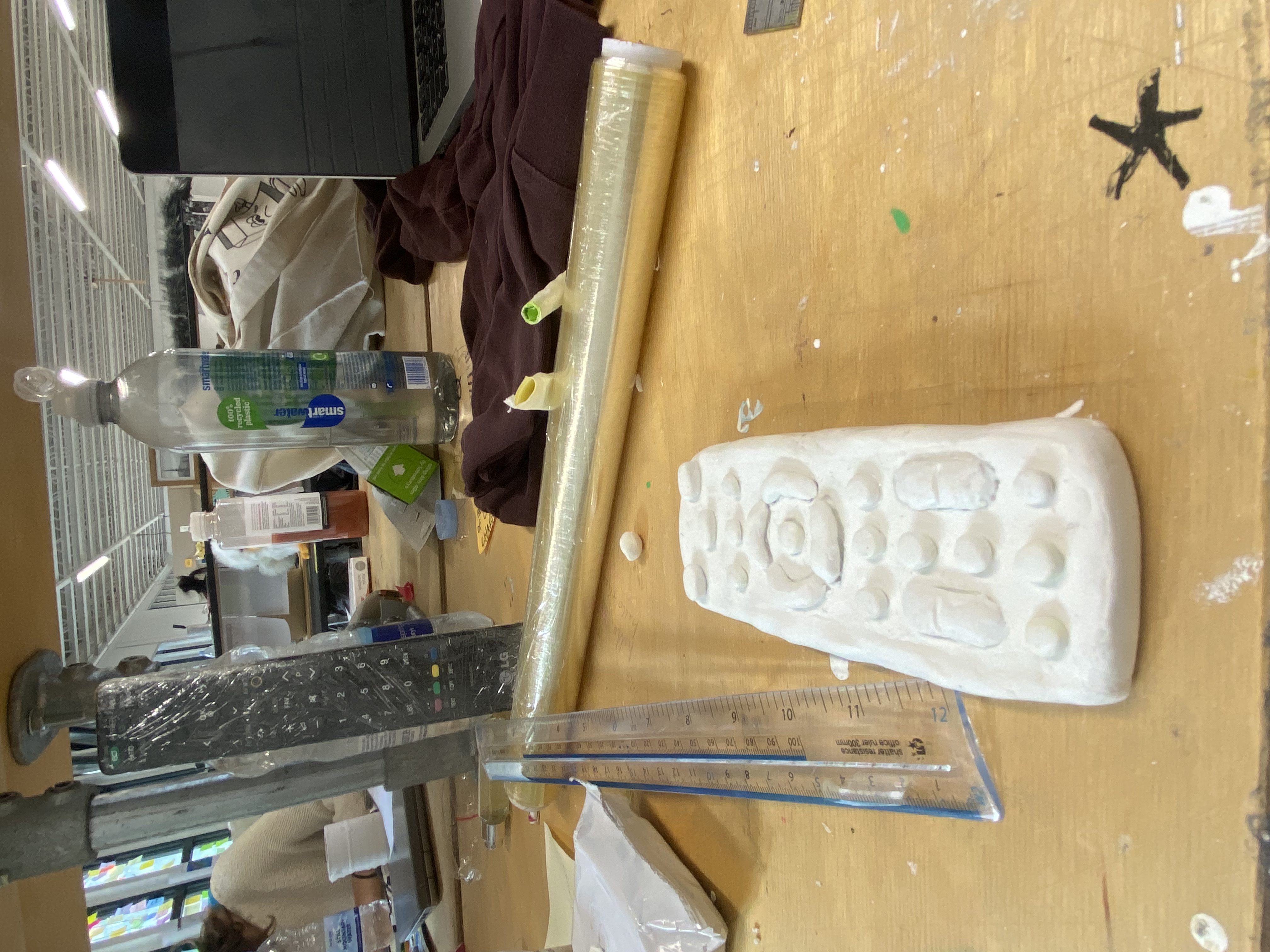 THIS IS A MODEL I CREATED USING CLAY TO MAKE A REMOTE SEEM DEFENSIVE AND USELESS. I WAS FUN TO QUESTION TEH FUNTIONALITY OF BUTTONS. SOMETIMES ON A REMOTE IT FEELS LIKE THERE ARE TOO MANY BUTTONS AND MOST OF THEM RENDER USELESS, SO I WANTED TO EMPHASIZE THAT BY HAVING NO SYMBOLS ON THE BUTTONS AND HAVE SPIKES PERTRUDING FROM THE REMOTE. ITS QUITE CONFUSING TO LOOK AT BUT I THINK IT HELPS TO SPECULATE THE POINT OF BUTTONS ON A REMOTE AND QUESTION COMPANIES LIKE 'APPLE' THAT TRY TO APPLY MINIMILISM TO ALL OF THERE NEW PROJECTS UNTIL THERE IS ONLY ONE ON NO BUTTONS THAT HOLD MAJORITY OF THE FUNCTION.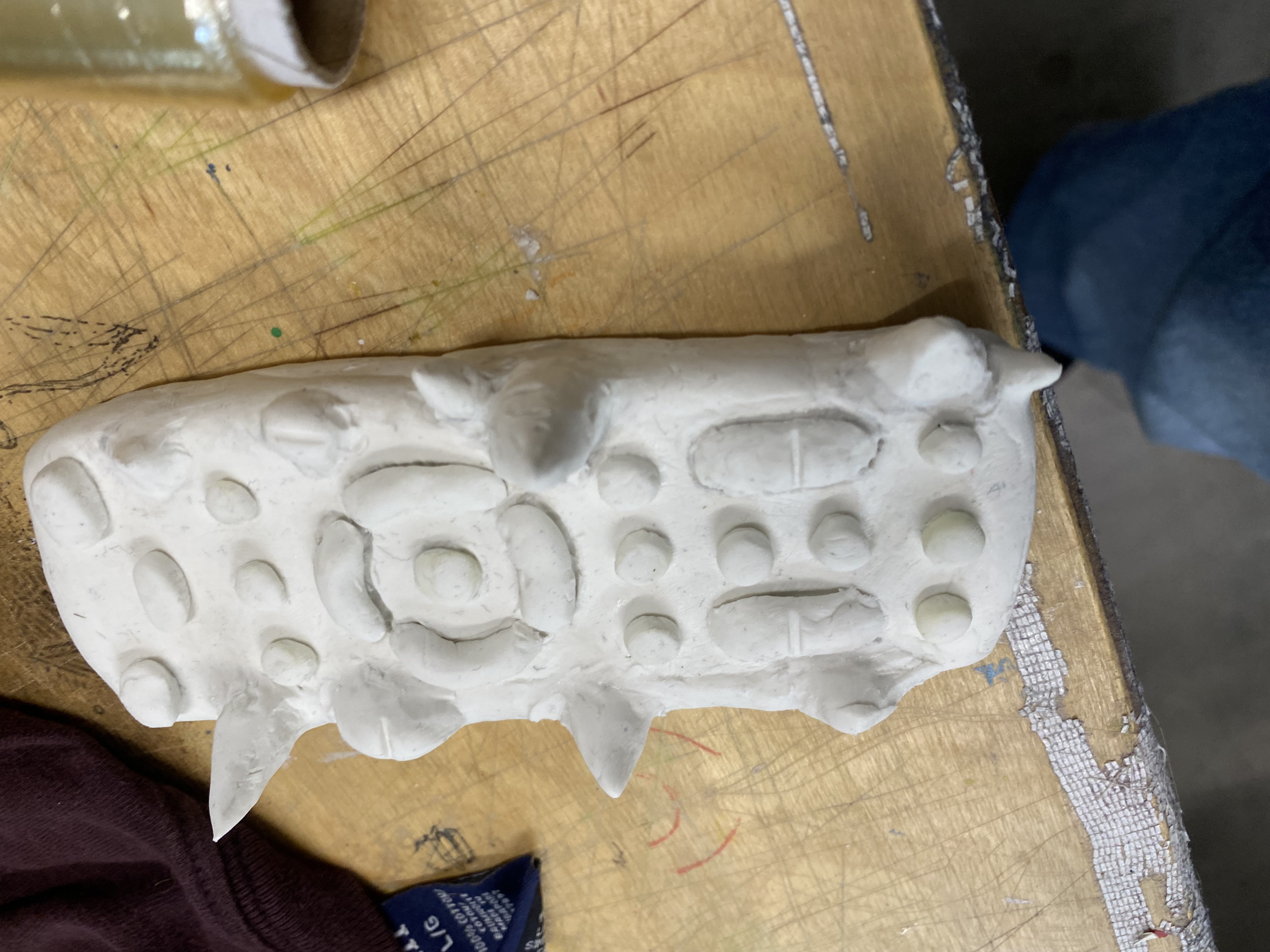 THESE ARE SOME ITERATIONS I CREATED MANIPULATING THE ORIGINAL MIDDLE REMOTE.